Visionbuilder projects in hand
OASIS MILLION SIGNS in lower TAB No 12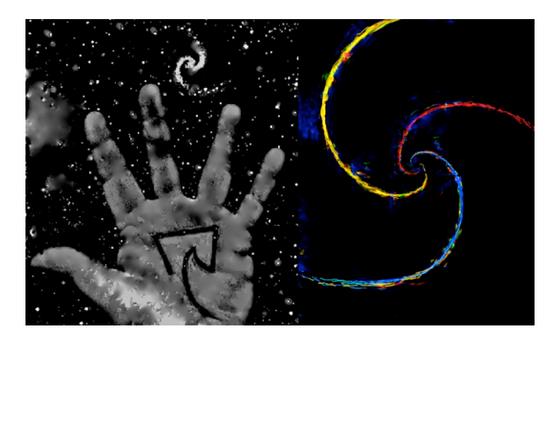 No 1 The Kimberley Project - an example of VISIONBUILDING
Broome Arts Group Aboriginal Corporation Inc established 1978.
Quote; Kym Bonython ..." a project with great potential that must be a model and inspiration for for other parts of Australia"...
From his opening speech for the Kimberley Community Arts exhibition at the Centre Gallery in Adelaide 1981"
Pam Brown Blog
I was privileged to meet and work closely with the Broome Aboriginal Arts Group and Jimmy Chi when they were artists-in-residence at the E.A.F. in 1981. Members of the band 'kuckles' were concurrently studying at the Centre for Aboriginal Studies in Music in Adelaide.
Here, Jimmy and the band made the first recordings of the songs that have continued to be sung and performed for three decades now.

For me, the experience of working with the Broome people ... Kuckles, Geoff Buchan, Jane Sindel, was a very positive one. And yesterday I felt happily moved by the film Bran Nue Dae so I began looking around in my cupboards for remnants of those days. ..
Pam Brown article in 'Art Network', issue 3/4, 1981,
No 2 Muru Durabin Art/information Signage Odyssey.. OASIS Origins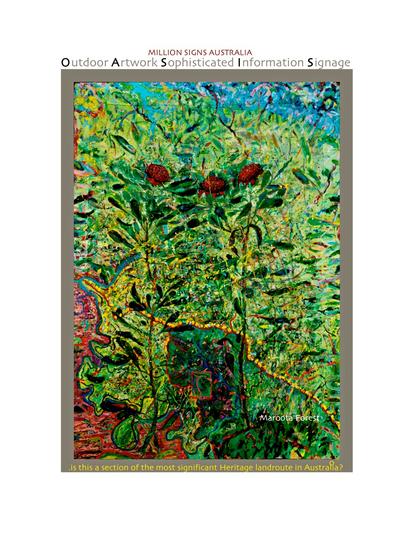 Muru Durabin Art/information Signage Odyssey
Muru Durabin in local Darug language means 'path to the river'. The Old Great Northern road follows this Aboriginal walking track. Rock art images that align this pathway are linked with tribes along a route that goes through to Queensland. Maroota has the largest galleries of rock art near Sydney. These images can be read like outdoor signs.
AIM
To have a series of signs along the Old Great Northern Road which exist in more sensitive and expressive forms ie they do not necessarily materialise as steel signage boards alone.
To create signage based on the East Bend Community Cultural Mapping Process values.
To encourage community building, by incorporating and affirming the diverse range of concerns and aspirations of the community into these community based projects.
To foster new learning skills to enable people to better cooperate and adapt to change within modern society .
To connect people with people and connect people with their local environment, by respecting and learning from the communities past, so as to create forums in the present, that enable the building of creative solutions for the future
To question and challenge.
See:
Old Great Northern Road East Bend Community Cultural Mapping Report www.visionbuilder.com.au/portfolio.html .. . .(download)

.
.
.
No 3 "Singing Buses" by Geoff Buchan
from Living Heritage Magazine article 2010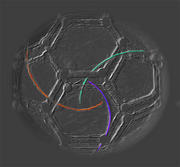 from Living Heritage Magazine 2010
"Singing Buses"
by Geoff Buchan
"Singing Buses" emerged with a little sound during a wonderful weeklong choir workshop run annually by two "Sisters" at a Castelle near Ardenburg in the south of Holland. The sound was not from a little voice in full bloom. It was from me, and felt that I couldn't sing a note. I made the odd suitable sound with the help of the others, and following their lead, continued to "squeak" something that fitted their tunefulness.
In the scheme of things, it was not the volume that counted, but the quality of the little sound that fitted.
I was at the time, tagging along with another of the "singing" sisters. She has since filmed her sister Christina and partner Winni performing during their Shuccalalla AusrtralianTour on the my bus, the Maroota Express from Galston High. (see youtube "singing buses" and sister's of swing and stringtett from trudilatour ' s channel).
They are all from the cultural city of Meunster in Germany that was bombed to rubble in WW2.
It is now known for its quality public transport system. I looked at the adaptability of it's "big round table" of road user/stakeholders model (requiring warring authorities to - "please leave the ego at the door!").
Their system involves young people in the public process because it is their future at stake. They began changes after the1970's Oil Crisis and took the politically unpleasant step of radically switching roads away from cars to exclusive bus usage.
To learn more I visited the Stadtwerke bus depot with the sisters' mother who was a fine concert pianist. We were shown the workings of their depot which has an emphasis on quality.
The value placed on quality over volume is a significant factor behind the "Singing Buses" concept formation.
"Singing Buses" is proposed as a different way of dealing with improving public transport awareness in the face of peak oil and climate change.
It seems important that young people in the Hills know that LIVING STANDARDS in our urban fringe area will be grossly affected due to distance from rail access and particularly rail hubs.
The current approach to public transport issues seems to end up a constant simplistic blame game.
If we are to make any improvement we may need to change our arguing behavior and learn to cooperate to get a system moving.
After the bloody Thirty Year War between Europe's Christian north and Christian south, Meunster is where the Treaty of Westphalia was signed. The treaty was the first time human beings formally negotiated peace on this scale. It was a real social system change.
Maybe the public transport change for the best for North West Sydney will be something that comes from "singing up" quality contributions around the big round table – like the successful model in Meunster .... much is possible. Geoff Buchan
...........................................................
............................................................
No 4 "Singing Bus"
REFERENCE: Dr Justin Briggs acting Head Galston High
Fellowship Application
Project Referee: Dr Justin Briggs Deputy Head Galston High
Geoff Buchan is a driver employed by Hillsbus Dural who has driven students to and from Galston High School over the past two years. During this time we have come to know about his unique community enterprise work as an artist and visionbuilder. Visionbuilding can be a healthy link between the School and the community.
With the support of Hillsbus, Galston High School students have become involved in two of Geoff's visionbuilding projects.
They are called "Singing Buses" which is about the role of creativity in changing behavior, and Million Signs Australia.
Million Signs Australia develops the idea of an Outdoor Artwork Sophisticated Information Signage System (OASIS) in the Hawkesbury/Hills Area. It is planned that the first will be a "moving sign" on a Hillsbus painted by our students at the Depot.
If successful, Geoff's visit to the Eden Project to learn about its formation, structure, promotion and impact will be helpful in bringing an understanding of this model for adaptation to this endeavour.
It will help to bring this creative set of signs into an educational visitation tapestry in the heritage-rich Hawkesbury /Hills area.
He envisages it weaving throughout remote Australia to create an educational visitation economy for Aboriginal communities.
Geoff was acknowledged for his visionbuilding work in Broome in the mid seventies with title credit "for inspiration and encouragement" in the recent movie of the Aboriginal musical Bran Nue Dae.
The first "Singing Bus" event was performed with our students on Geoff's Maroota Express bus by professional musicians from the Meunster Conservatorium of Music in Germany. It was recorded by Geoff's partner, filmmaker Trudi Latour and can be seen on our school website.
Based on years of groundwork, Geoff is already building a vision.
Our School would like to align with him and his approach, and hope that he is considered worthy of a fellowship.
............................................................
No 5 3 Spiral lines approach to sustainable Public Transport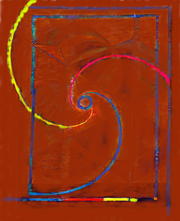 3 Spiral lines can form a dynamic approach to Public Transport
It can supplement the triple bottom line and release the gridlock from its linear competitive image and allow a shape through which all road users may embrace a behavior change which puts emphasis on quality not volume and cooperation throughout competition.>
Image shows
Triple bottom line and 3 Spiral lines with both paradigms integrated >
The Triple Bottom Line shows a static alignment that seems to encourage competition between three realms of business:- economic=social=environmental,
in segments.
To me, a good bus transport system
will embrace patterns of improved;
interactivity,
cooperation and
communication.
CONTEXT of 3 Spiral and triple Bottom Line
- sustainability and public transport.
This image relates to questioning by an artist/bus driver (and member of the traveling public) around how we might improve the way we physically move to connect in the future if we can't walk to work, school and play.
It anticipates a requirement for triggering an appropriate systemic behavioral change response (beyond incremental) to peak oil and climate change.
The 3 Spiral geodesic connection image, illustrates an interactive, comprehensive and inclusive approach to sustainability.
This new paradigm represents a different dynamic "vision" from the current corporate Triple Bottom Line.
No 6 EASTBEND~BURNUM BURNUM ABORIGINAL DREAMING TOURS
for Hills/Hawkesbury area in NW SYDNEY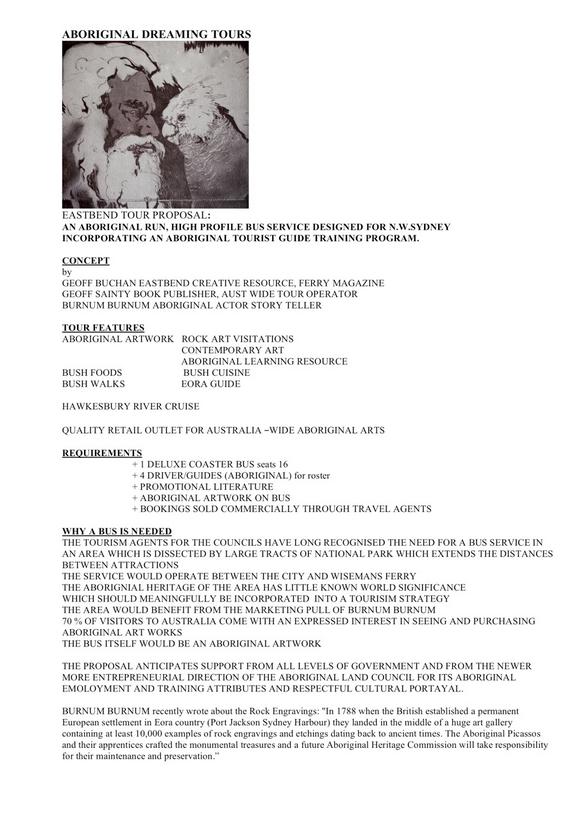 No 7 Public Transport Improvement Project
REFERENCE Mr Ron Woods fmr Hillsbus Dural Depot Manager CDC
Churchill Fellowships 2010
PROFESSIONAL REFERENCE
Title: Engaging youth in visionbuilding in relation to
improving public transport in North West Sydney.
Mr Ron Woods Hillsbus Dural Depot Manager CDC
It is my pleasure to offer a reference for Geoffrey Buchan.
Geoff has placed a creative medicine
in Public Transport
and underpins his process with public participation
and outside influences.
This project is about
research and change methodology.
We as a society who will continue
to use public transport
as its conduit for political expression,
need to be able to change
and deliver better outcomes for provision.
Geoff has worked in consultation
and directly with the community,
thus giving him knowledge
and relevance in this project,
enabling a true understanding
of critical behavioral changes
required in society to produce partnerships
of continuity and positive solutions
in an interactive, comprehensive
and inclusive approach to sustainability.
No 8 Public Transport Improvement
REFERENCE by Hon Kevin Rozzoli
Reference from The Hon Kevin Rozzoli
I have known Geoff Buchan for over twenty years during which I worked with him in my capacity as the Member for Hawkesbury in the NSW Legislative Assembly on the resolution of community and environmental problems.
I consider his work to be inspirational. His particular talent is to see the potential for combining creative artistic elements with creative structural elements as a path to solving universal problems. He does this by engaging a variety of pathways, which allows the community at large to express their concerns and ideas and more easily understand the process by which competing and conflicting forces can be resolved by a harmonious solution.
His process is not about the separate potential of poetry, painting, music, video, text and numbers but about the combination of all these and other modes as forces in the development of tools and systems for opening up lines of communication which may lead to positive change.
Geoff has exceptional talent, is energetic and totally committed to all he does. I believe the opportunity to explore his ideas for creating better passenger conditions on public buses to be of great significance. We constantly hear of the problems facing bus drivers, the lone representative of their company on the bus, with unruly elements among their passengers and of the negative impact this has on other passengers using public transport. These negative elements in turn lead to the increased isolation of individuals within our community and a further shutting down of lines of communication in a society that is already failing in this regard.
Geoff's work could well revolutionise both public and private attitudes in our population, reaping benefits that extend far beyond the initial target group.
Any support given to Geoff would indeed be worthwhile.
Hon Kevin Rozzoli
No 9 "Big Round Table" Transport Improvement Model in Germany.
Schoeppingen Application for Artist in Residency:
Kuenstlerdorf Schoeppingen Foundation
Schoeppingen Artist in Residency Proposal.
Visionbuilding, a bus transport awareness improvement theme.
The primary theme explores:
How we might structurally integrate creativity into positively affecting societal transformation with less adversarialism using a vision building exercise with an aim to improve awareness about changes in the ways we might need to physically move to connect in the future if we can't walk to work, school or play, as we do today, due to the impact of peak oil and climate change.
I am an artist/vision builder, a bus-transport user, a professional bus driver, and now bus consultant for a company who recently asked me to submit a business plan about ways of improving bus transport awareness and practices, both inside and outside their business. The request followed a Hillsbus CDC head office meeting where I explained my research at Stadtwerke bus depot in Muenster and their new societal cultural and corporate change approach undertaken since the 70's oil crash. I explained that their current success was innovated through representatives of all road users openly coming together at the big round table where they began the unpalatable initiative of radically switching off of roads to bus only lanes and the creative engagement of school children in making further improvements.
Stadtwerke Munster's Claus Wegener expressed an interest in me revisiting and sharing my visual methodologies and creative aspirations in driver training and also the shared interest in involving youth in driving change through their dexterity in maximising possibilities created by digital communication technology.
I have also discussed some of these ideas with the former Mayor of Baulkham Hills Shire Councils Ms Sonia Phillips who was an advocate for the implementation of the creative idea of walking buses for school children.
(A reference to the meeting is attached showing the range of discussion.)
One of the initiatives that I have been canvassing with Hillsbus passengers, both young and old, is "singing buses". The idea is to inject creativity into the issue of generating an option for people to engage with, belong to, and review the world of public transport so that they might see from different perspectives in order create positive dialogue about necessary radical change. It has stimulated many imaginative, enthusiastic and supportive responses.
The idea of "singing buses" was advanced during the 2008 visit when I attended a weeklong singing workshop in the Netherlands run by Rosa and Christina Latour for attendees from Muenster. I was inspired by the connectedness created between the diversity of singer and the fundamental emphasis on performance output as requiring quality over volume, which has some resonance for me as a social metaphor for dealing with bus transport improvement.
During a stay with us in Sydney, child psychologist Dr Thomas Henning who was born in Muenster explained a musical bus concept that inspired him. He had played an early morning/overnight musical part on a performance which involved playing a folk music piece continuously from Bonn to Duisberg. Musicians played as it travelled. He was carried on a late night bus, then on a horse drawn cart through to play at a steelworks, then joining morning commuters and then into a town square where they breakfasted as school children carried the musical performance on it's way to Duisberg.
Thomas suggested something like this might possibly happen in Shoeppingen, in partnership with Stradtwerke, during the residency. It could be linked to the exhibitions and engage the broader public. It could involve the musician friends and associates in Muenster of my partner Trudi Latour – her father was director of the Music School. Some of her friends like Burchardt Elger and Vinni Buckman have already collaborated on the art/film projects. They might be inspired to become involved in a multi-arts event during the residency.
Back in Australia I could make connections between schools in the Hills District of Sydney. They might become involved over the internet with schools in Germany. There are many options that are possible. Visionbuilding is about enabling the possible.
For me, the dynamics of linking art, music and life creativities in societal problem solving stems back to the 1970's in Broome in the Kimberley of North West Australia when my friend and visionbuilder Jimmy Chi wrote the inspiring Aboriginal musical Bran Nue Dae. He made it possible for others to hear and open up to what was happening to people, thereby enabling societal change through his creativity.
With School children, I imagine buses as moving classrooms and talk about the possibility with students.
When I became a bus driver, the intention was to grow a concept of educational artwork visitation. The Hills and Hawkesbury area of Sydney is heritage rich in Aboriginal, Colonial, geological, flora and other unique geographic features. With this in mind, and aware of the success of the Eden Project in Cornwall UK I became interested in involving young people in the design of a major visionbuilding project called the Hawkesbury Vision Initiative. It is an art/info Signage odyssey. It will weave its way around the local area and then out into Aboriginal Australia. Particularly into remote areas, creating and adding to an educational/visitation economy which is internet connected. The internet makes it possible to involve people from all around the world in such a program. The ideas behind this project come from working with the Broome Arts Group Aboriginal Inc, and our self-help trucking Cooperative Dingo Deliveries which serviced the remote communities. The group was the hub of creativity in the town and hosted the first Bran Nue Dae concerts and exhibitions and in a similar way, I feel that with the art/info signage odyssey, there are many possibilities, and many ways to be connected with emerging initiatives from around the world, and many ways to learn.
The question of how we might move to connect with each other in the future is a poignant theme for me in terms of the role of artist over time. Creatively and more systematically enabling "the possible" in learning to deal positively with change, is what I hope to reveal through the residency.
No 10 Public Transport Improvement
REFERENCE: Dural Depot OH&S Chair Mr Allan Broadhead
ALLAN BROADHEAD
PROJECT REFERENCE:
GEOFF BUCHAN OF MAROOTA NSW AUSTRALIA
I have known Geoff Buchan for over one year in his capacity as a fellow bus driver in a private bus company depot of 150 buses within a multinational transport company structure of many depots and about 2000 buses in Australia.
We have had many discussions about his visions and I have been involved in several meetings with Geoff and management about his visions and ideas for safety, operational and societal improvement in bus operations. Geoff believes many improvements can be made in these areas to enhance service, reduce stress, increase safety and educate people.
I have seen some examples of his work and feel Geoff is in a unique position to use his "artists" visual skills to determine, demonstrate and communicate his project.
His studies should demonstrate a bus transport industry with less conflict between drivers, management and passengers. He has seen examples of lateral thinking for solutions in Europe and with this research should find areas where improved solutions based on different thought processes can benefit the industry, passengers and the community.
The range of proposed contacts appears impressive. These should give him a wide variety of experience for his ideas to formulate.

Geoff is very passionate about this project and I support him in this application.
Allan Stewart Broadhead
Allan Broadhead
Bus Driver
Chairman Occupational Health
And Safety Committee at Dural Bus Depot
Retired Bank Manager
31 years service Commonwealth Bank Sydney
Past President Rotary Club of Batemans Bay
Member: Rotary Club of Galston
No 11 Public Transport Improvement in the Hills
Notes from meeting with BHSC Mayor Cr Sonia Phillips
Mayor Cr Sonia Phillips meeting 11th Dec. 2007 RE: BUS CONCEPT
I am driving buses and driving visionbuilding about public transport
as a professional artist with a practical insight into bus operations.
back ground thoughts
if we can't individually walk to work, school and play,
with the increase in population and congestion
we may have change our behaviour
Acting on these thoughts I canvassed the idea of implementing a learned approach to improving awareness about Public Transport.
Positive exchanges with student passengers has led me to believe that awareness can be improved through engaging young people in driving the design, communication and implementation of an exiting public exchange program. It is their future.
Documented potential for engaging students in visionbuilding is evidenced in my work with Crestwood High and the Hills Interagency and outlined in Council's copy of the OGNRd Cultural Mapping Project Report.
By maximising young peoples profound new digital media ability, and through linking schools in the Hills in an interactive "learning revolution",
we might grow a range of comprehensive engagement options
for openly addressing future public transport issues.
Suggestions for creative student involvement are :-
Festive Forums, interactive Websites, creating Touring Exhibitions, designing and producing DVD'S about:-
Public Transport Past/Present/Future -anticipating change
Participative planning in transport solutions
Sharing questions about why we might want to change to buses,
How to catch a bus
How to transport the elderly
How to train new drivers
Different Routes
I am seeking support from yourself and BHSC to champion this approach.
Council might initially advocate my role as a 'visionbuilder in residence' working on this concept with Schools in the Hills with a clear common purpose of improving the way we will physically connect in the future.
Such a large scale community building project may be jointly resourced through attracting a range of strategic alliances, ie The Australian Business Council, Chambers of Commerce, business sponsors (eg Harvey Norman demonstrated support for my visionbuilding), Ministry of Transport, Department of Education, Hillsbus, Busways, Transdev TSL, Newspapers and adjoining Councils.
This proposal is inspired by;
BHSCouncil's 2020 Vision Workshop
Issues raised; Climate Change, Peak Oil, Sustainability
Related to Public transport improvement
Listening to my ideas (advancing a new learned visionbuilding approach to a local issue) in a 2020 group session, the workshop facilitator posed the innovation of a Hills area transport model like the community driven version in Adelaide.
Rather than building upon her visionary summation, the group participants avoided adding specifics to her forward thinking about engagement in possible solutions, and succumbed to generalised commentary and apportionment of blame. This is a closed-off unhelpful behaviour that normally dominates and compounds the issues at a time when openness is sought.
Our behaviour depends largely on the way we look at things.
I am an artist specialising in the 'seeing' business.
Visionbuilding aims to create a less-adversarial platform for the exchange about "seeing" possible improved futures.
As a professional designer/visionbuilder, in order to help people look, act and see things differently, I have produced this less-adversarial facilitation structure to guide ideas away from saturation crisis commentary (ie climate change yes or no issues etc) towards participation in creative structural engagement in solutions.
Progressive business managers have embraced a Triple Bottom Line approach to sustainability. This brings the social and environmental realms into the business equation to compete on the economic bottom line.
Different to this alignment, being concerned about the comprehensiveness of this approach in the context of the purpose in life, I have posed a interactive 3 Spiral Line Approach. The distinguishing benefit of this new management picture is an easily visualizable structure for growing a platform for cooperation, inclusion and integration. It embraces both cooperation and competition and is a way of dealing with complexity and completeness rather than the simpler competition notion of the 'bottom line'.
In conclusion, I seek support from council to champion the idea of implementing a learned approach to improving awareness about Public Transport through creating 'visionbuilder in residence' working on this exiting concept with Schools in the Hills using a 3 Spiral Line Approach
Aspiration - doing the possible and creating a model for the rest of the world.
Vision builder partnerships can reduce un-anticipated costs expected in the burgeoning realm of adversariaism. The through-path that I plan to unfold with the recognizable and even visitable shift from talk into action in the search for solutions will enhance a sense of 'completeness of achievement', adding to a comprehensiveness of purpose through new skilling in the practice of improved pervasive strategic alliance formation.
I have recently illustrated this notion in comparative images of cake slicing and cake baking in a painting and believe this creative embedding of a vision builder/artist in residence will help make necessary awkward improvements more "possible" through the inclusion of improved visualization along with lines of words and numbers.
Paradox impacts on purpose when solutions are incomplete. This actuality, in turn limits the "possible". Vision-building structurally supports "what's possible" by re-affirming purpose in a new way. The "probable" solution is often paradoxical and adversarial. Today, dealing with the "possible" is not normal.
A pattern receiving, multi-media (integrity mode) structure differentiates the vision building business as a form of cultural change agency. It is distinct, yet includes, other linear, sequenced word and number emphasis structures (segmentation mode) implemented by many organisational change consultancies. They are often caused to be pragmatic about the "potential". Pragmatism can use potential in a rational sequence to trump and leave out the "possible". This incompleteness can blind the "purpose", affect behavior, and diminish common sense.
We each observe differently.
" How we look at things affects how they look and what we do" J. Pfeffer.
"The range of what we think and do is limited by what we fail to notice. And because we fail to notice that we fail to notice, there is little we can do to change until we notice how failing to notice shapes our thoughts and deeds." R.D.Laing
I have been a painter/designer/social entrepreneur all my professional life. Seeing, searching, questioning, imagining, experimenting, risking, observing, noticing and showing are fundamental to my passion - effective engagement with people through image making.
The societal contribution of successful artists is often seen in a particular romanticised way. I propose to systemically share my visualisation abilities, more as an engineer would, rather than as an artist might, in enhancing an observable "living" outcome.
As a consultant, I would help craft continuing innovative responses to competitive conditions using a non-verbally inclusive, creativity delivery system. The system is a 'visualisation package' with a set of problem-solving and transformation tools that makes sense of patterns of observation in a "rich picture" learning environment.
These tools can ease the trauma of transition and enrich the way we look, think, and behave in relation to immutable change.
This methodology can be aligned with, and supplement any stage of strategic planning which from now on will have to adjust differently to the impact of global warming. Vision-building enables people to become more observationally aware and further engaged in a novel, multi-language process for 'thinking outside the square'.
No 12 OASIS Million Signs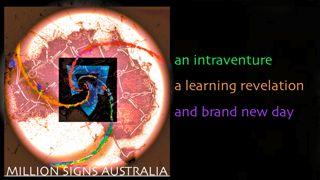 No 13
OASIS Million Signs Australia PROJECT
presented at the "Much" is possible Visionbuilder exhibition, Downing Centre Sydney October 2010
OASIS - Outdoor Artwork Sophisticated Information Signage
- meaningful. pictorial story-telling in the landscape, networked across the nation, to help build understanding.
The proposal is that OASIS
,,,,be tested in the heritage rich Hawkesbury/Hills area, and
,,,,re-designed with young people as a model for
,,,,generating an educational visitation economy in remote parts of Australia.
The ORIGIN of OASIS
,,,,is the creative community building exploits of the Broome Aboriginal Arts Group and the Dingo Deliveries Enterprise in the Kimberley, which showed that much is possible.
The APPLICATION of systems learnt, informing OASIS
,,,,comes from the refinement of the essence of those exploits into a community building structure with the Eastbend community group at Maroota, in NW Sydney. Evidence of this is in the Old Great Northern Road Community Mapping Report.
The TRANSFER of the community building system ot OASIS
,,,,is enabled through the 3 Spiral Visionbuilding approach and it's corporate and community mapping method that aligns community, business and government in a common purpose .
...................................................................................................................
In remote areas, an asset owned by Aboriginal people, that may be exchanged, is the ability to communicate stories past and present, in a digital future. The outdoor signage project could weave sophisticated stories onto meaningful contemporary and traditional signs across the country to help us learn about this unique continent. – " a Learning Revelation"
At the 1992 Maroota Community Planning Forum about local mining, we understood that a distinction can be made between Aboriginal and Western World views. One is a survival culture valuing belongingness, connectedness and knowledge, and the other's survival emphasis is entwined within power, ownership and money.
(Hannah Rachel Bell. two-way thinking ...Geoff Buchan's ...www.hannahrachelbell.com/tag/winton/ )
In seeking win/win solutions, the Forum presenter shared insights from Kimberley Elders that sustain the work of the Eastbend Group to this day. In the Kimberley there is passionate belief in maintaining strong connection between people and landscape. A tourism example of this (learnt from a recent visit) is the Lurujarri HeritageTrail on the coastal songline through the pristine Dampier Peninsular.
It is feared by some, that a major industrial dispute over Aboriginal land use on the Dampier Peninsular could sever that healthy sense of connectedness. Arising from this issue, there is a strong local wish for these connectedness values to be sustained. More importantly, it was expressed that these values should not just be isolated to argument over the local, but that these values should be universally shared as a "Kimberley offering" that is projected into the Western World View, to counterbalance the toxic effect of disconnect in contemporary society that is now dominating the region.
(Social disconnection is at the core to the "cause" of the Federal "Intervention")
In Broome, optimistic talented expressions of these values, such as those inherent in the music and film of Bran Nue Dae, are broadcast within reach of youth who may be unclear about educational and employment options, and the impact of this radical societal change in the Kimberley. It seemed that "creativity" is broadcast by Broome Aboriginal Media in this way to attract the young to look differently and engage in meaningful life-fulfilling options. Creativity is used to enable a change behavior.
The OASIS project will be a clear, integrative, life-fulfilling option in terms of education, employment and community building.
OASIS has developed from the Broome origins and refined through the Eastbend Community Cultural Mapping process (ECCM). ECCM is a qualitative community participation tool presented by a young Maroota student, Brett Edwards, at the International Planning Congress, in Sydney in 1996.
ECCM promotes connectedness between people and landscape with a multi modal communication process.
In ECCM there is a hierarchy of emphasis based firstly on;
what you DO,
what you SHOW,
then TALK, and,
what you WRITE about.
People primarily trust the communication of ones doing and showing as a reason why they might make change in a complicated world. OASIS is more about the DOING & SHOWING, and so to is ECCM.
ECCM's origins hark back to the complex 'sitdown' communication with Elders outside the Broome Court in the 1970's that became the story illustrated in Kimberley Learning titled – "is the reason why you are alive to learn about life". This is one of three keystone paintings in the Much Exhibition. It affirms ECCM's creative origins that were inspired by a unique doing/showing it, in the "sitdown"cross-cultural exchange. ECCM evolved from the workings of the Broome Arts Group Aboriginal Corporation (BAG Ab Inc) which began life as an Aboriginal Tourist Development Agency in 1978. This arts employment scheme put on the first Brand New Day concerts and then traded as the self- help arts/transport coop – Dingo Deliveries. Jimmy Chi acknowledges BAG Ab Inc as a creative community of significance. The late Kym Bonython AM said... it was "an inspiration and model for other parts of Australia" when opening the Kimberly Community Arts Exhibition in Adelaide (1981). (The packaged visual material documenting the Broome Arts Group can be archived and presented as a touring exhibition that illustrates the origins and potential of the OASIS project, and inspire community participation.)
...............................................................................................................
Galston High School will always be on the bushland fringe of Sydney. It is favorably placed as a cultural platform to showcase the transfer of "stories" from the bush into the city. Acting Head of Galston High, Dr Justin Briggs, spoke at the "Much" Exhibition Opening about the involvement of his students in this visionbuilding Initiative
The "Rural Cultural Fringe" painting shown in the Much Exhibition, presents this concept. It is drawn from cultural mapping experiences in "Greater Western Sydney" and deals with global issues of rural urban drift. It constructs a visionbuilding plan to generate a new economy around Sydney's rural/ urban fringe.
The Eastbend area in NW Sydney is a catchment for rural students attending Galston High School.
....................................................................................................................
OASIS has an accompanying visualized small business, training module, devised using the 3 Spiral Approach. It is aligned with the visionary Prosperity Pods small business advancement enterprise designed by Kate Kingsbury. The visualized module may enable business sector autonomy in remote communities in the;
...implementation,
...maintenance, and,
...advanced phases of the OASIS project .
an Intraventure - a Learning Revelation - a Brand New Day
SUMMARY
OASIS Million Signs Australia, is:-
a creative learning platform,
a scaffold for building a creative change structure, with a systematic set of communication tools, for an open participation system, which positively binds government/ business/education/community in alliances via a dynamic and comprehensive 3 Spiral visionbuilding process,
which becomes the "creative medicine" that helps glue back together the costly toxic disconnects in society by structurally offering
hopeful and trustworthy vision possibilities
reinforced by commitment to a mature sense of connectedness.
an Intraventure - a Learning Revelation - a Brand New Day
.
.
.
.............................................................................................................
.
[see report in ARTWORK Portfolio - (download)]
Old Great Northern Road East Bend Community Cultural Mapping Report. ..............................................................www.visionbuilder.com.au/portfolio.html
INITIAL GUIDING PROJECT NOTES
ECCM Old Great Northern Road Signage Concept
Objective:
To use ECCM to develop art/information signage along the Old Great Northern Road, which, is participatively designed as guiding information for profound heritage odysseys.
Muru Durabin Signs
In local Darug language, Muru Durabin means path to the river. Rock art images align this pathway. They can be read like outdoor signs with a library of meanings about the connections between people and the landscape over the expanse of time.
'I had lived with Aborigines long enough to have learned that the surface of the ground has always a story to tell. It is like a great book, from the pages of which the initiates can read the daily events of bushland, the comings and goings of the birds and the animals, and the industry of the lowlier animals. Even with my untrained eyes and mind I have missed but a few...' .... (Brown Men and Red Sand. C.P. Mountford 1950)
More than numbers
The gnarled timber 23mile peg is a cared for sign post on the old Ten Mile Forest Post Office site at Forest Glen. The carved post can be found tucked away beside the OGNRoad (Muru) on a ridge above Maroota Forest where there is a native apple tree, which is the third oldest benchmark tree in use in Australia (1833).
These are visitable historical symbols of colonization and represent the way space was measured; land became owned, why wars were fought, and belongingness all but erased.
'...Discussion began with the observation that many Australians felt that they had been poorly served by their teachers and by the nation's historians. They are angry that they weren't told the truth about the past and feel they were denied information, interpretation and understanding. ......We can know a great deal about the history of indigenous – settler relations. But knowing brings burdens which can't be shirked by those living in ignorance.
.......Much has been achieved. Tolerance and understanding have broadened out. Bigotry is in retreat. But the racist past still weighs heavily on the present and might destroy any hope of reconciliation'. "Why Weren't We Told?" Henry Reynolds. 1999.
Through visually visiting such symbols from the landscape, and revisiting our history through the proposed Signage Odyssey, questions at the core of Reconciliation, about our troubled history of relations with indigenous people, can be experienced beyond the words. A participative signage process on the Muru, explained in Darug language, may 'walk the talk' and counter some of the distorted and idealized versions of peaceful settlement which generations of Australians grew up with.
Locals using ECCM, also wish to tell the story of hardships and primitive conditions suffered by families who worked the harsh ridges around the 23 mile peg before their vital; memories, meanings and sense of belongingness are lost within the encroachment of urban/global sprawl. They too have a knowing which they do not want erased. With it are 'burdens which can't be shirked', allowing for deep-seated reasons to sensitively reconcile the social background to a suggested place name change from Forest Glen back to Five Mile Forest.
In earshot of the 23 mile peg are coronial markings that match engravings of a fatality in the road. These markings record for the 'initiates' the instant in time when the past/present/future of a fellow traveler became one. Signs of this 'head on' were retraced on the ground beneath a large green clinical sign with the numbers 15 and 36.
The community has no say in the seemingly costly set of numbers this set of signs standing by the road. They can be questioned as meaningless and irrelevant forms of visual pollution. The 'say' is afforded to the departmental experts who are far removed from community wisdom and engagement.
They are the gate keepers on the pathway. The idea of the signage odyssey is to bring all the players including the gate keepers together. To involve the community in; the conceptualization, initiation, planning and implimentation of this approach. These fatalities can close the road for four or five hours. Horror, frustration and concern are shared helplessly on the faces of hundreds of stranded families and individuals, who all have a story to tell about the road. With profound community input into planning maybe the suffering and carnage will diminish, and the public expression of loss displayed in the growing number of roadside wreaths as creative signs of respect and passion will hopefully decline. These wreaths along the Muru are the unsanctioned public signs of this time.
It is hoped that this signage concept is sanctioned with the active participation of the gatekeepers as living concept. Living museum with libraries of stories to be experienced and read in the landscape on the journey of life. Because lives do matter, the fiction of the gatekeepers and the pathway is separate. It is an illusion hence the shape in the painting come together and do.
Medium as the message
- Living Museums
'We have now become aware of the possibility of arranging the entire human environment as a work of art, as a teaching machine designed to maximise perception and to make learning a process of discovery' (Marshall McLuhan Medium as the Message, 1967)
A Subversive Approach
The signage concept was first written about in the Ferry Magazine Issue # Vol # in an article called the Signage Odyssey and the Bleeding Eye Award for visual pollution in the Eastbend area.
The following is a quote from the book . "Diagram instrument of Thought," K Albarn and J Miall Smith.
'Skilfull non-verbal communication is essentially subversive. We would argue that this is its greatest justification: that subversion is closer to an organic evolution than is revolution. Subversion, generally speaking, requires that the ground be tilled before the seed of an idea can germinate.'
'As our species developed, certain values have remained constant, expressed in that form of visual notation we call 'art'. Visual notation is a universal language inextricably linked with conceptualization,...' ... "Diagram instrument of Thought," K Albarn and J Miall Smith.
Tilling the ground before the seed
The work towards this is conceptual because it is recognised that the project will require much greater funding than can be provided by grants of this nature. Moreover it is important to reflect the underlying principles of ECCM in the project.
During the year there has been further development of the OGNRd Signage Concept. The focus has been re-defined through a range of ECCM ground work activities associated with three phases from the local to the national.
1. Dural - Glenorie – Maroota – Wiseman's Ferry.
2. Sydney - Hunter Valley, working in with, and affirming the Convict Trail Project.
3. Sydney - Queensland linked via the New England Hwy.
ECCM principles explore the potential transfer and application of the Signage Concept for adaptation by other communities.
Rural and Urban versions of the Signage concept have been developed in phase one.
• The Rural version is between Glenorie and Wiseman's Ferry focussed on the AGL pipeline easement and linked to the Glenorie town plan. Involved with the Eastbend group are the Glenorie Progress Assn., Maroota Forest Conservation Committee, both Councils and local schools.
• The Urban version has been initiated by Stuart Rushton from Lorien Novalis School. It proposes linking a cycle way between Glenhaven and Round Corner at Dural. Incorporated into the construction is the "Muru" story. An information/art signage pathway telling about the Darug people of the Sydney area. Using ECCM to map his approach, Stuart has already gained commitment from local Rotary and BHSC. Interest has been forthcoming from; Schools, Castle Hill Historical Society, Orange Blossom Festival Committee, Dural Chamber of Commerce and the Glenhaven Community Centre.
In the context of the philosophy of ECCM, the signage becomes a participative theatre opportunity: an invitation to learning and festival participation.
Recognised as a complex action requiring "whole of Government" approach with resourced coordination of local endeavours with Local, State and Federal Governments.
To be effective as a significant stimulator to learning and community respect, the Signage should be developed to a high standard in several important respects:
• Representation of aboriginal, colonial,agricultural, industrial/mining and ecological heritage of the area;
• Opportunities for participative design and (sometimes) preparation of the signage. Groups who could be involved include Aboriginal groups, Schools, TAFE, Universities, employment schemes industrial/mining groups, and ecological and conservation groups.
• The possibilities for the trial and use of and innovative signage materials and design techniques in creating 'hands on' models with options for digital 3D simulation of proposals.
• The potential of the Internet as an interactive storehouse and exhibition space for feedback locally and globally.
• Moreover the signs on the ground need to be of high quality in relation to;
• The information on the signs;
• Choices of location and orientation;
• Durability and resistance to vandalism;
• Engineering and safety; and
• Linkage to the project web site and other forms of publicity.
• Signage related to Aboriginal sites needs to highlight the wealth of the heritage, but not add pressure for site visits.
General Themes
Reconciliation, Challenge and Respect
Telling Local Stories – past/present/future
Journey of life, Life is a game and learning pathways,
linking the;
social
ecological
economic
Community building
Active environmental art/design employment projects, learning communities
Outdoor Education/ Cultural Tourism
Burra Charter
Living Museums
Integrated resource management / Eastbend's "4" integrated planning mechanism's.
Catchment Management / Biosphere Reserve/ Regional Development
Intergenerational Equity
Involving all ages in the design

Specific Themes
Darug Story
Glenorie Town Plan
Genhaven Dural Reconciliation Walkway
Maroota Trial Biosphere Story
Overlooking Wiseman's Ferry
Becketts Forest Poem Sign
Spirituality Maps
MacFarland's Grave
Agricultural Hall of Fame - Maroota Pioneer Memorial Hall
Five Mile Forest story
Funding and Sponsorship
In early discussion about the ongoingness of the project, Eleanor Bailey from WSAAS explained that it may be worth seeking sponsorship by building relationships elsewhere. There is a trend in which the Banking industry seeks to improve their image with their customers. Banks might possibly support the project to improve connections with community particularly in rural areas.
With this in mind in preparing the groundwork for such a broad scale initiative, this project aimed to create (with minimal resources) a high quality transferable model linking ECCM and the Signage Concept. Especially intended for rural communities and their labyrinth of heritage, which could be proudly revealed and illustrated outdoors along rural roads.
It was considered that Banks might invest in such a highly visible community building project to enhance their public image in regional areas. Enhanced by its quality profile such projects would connect the sponsors with rural schools, employment schemes, community groups, regional businesses (particularly tourism) and government.
Risk - one sign or pioneer a process?
A conscious decision was made to not use up our funding to create just one sign and thereby loose the window of opportunity to collectively pioneer the process. The community-based approach in this case was a risk if we were to create isolated objects when there are so many ways to make signs of meaning and taste.
Phase one has distinct rural and urban ends with different values and resources (e.g. communication vehicles). The community-based approach is to use available time and resources to enable a scaffolding of opportunity to be pioneered as a magnet for the ideas, aspirations and abilities latent in the community. The intention is to evolve this scaffolding of connections to support self-initiation, partnerships and self-organisation. A scaffolding which is initially a flimsy and slow community building endeavor. Reflecting upon and then strengthening into existence with flexibility the patterns of aspirations of those who have become involved and who are weaving a meaningful platform for the inclusion of the interests of others.
Revealing meanings or adding numbers to signs?
It is more to do with revealing and/or not revealing meanings. It is about collectively revealing quality and not to do with quantity and costing at this stage. The signs should be radically different from the (costly?) large green clinical ones which dot Old Northern Road with numbers 15and 36 on display that make no reference to the Aboriginal rock art images alongside the road (Muru), or the meanings of locals who are seeking to become involved.
Especially those who are weaving themselves into the Muru Story such as Rowan Turner a student from Lorien Novalis school who used ECCM to create the 3D model of the Castle Hill Heritage Park for the Castle Hill Historical Society. He gave a healthy reference to his interest in art/signage for the Park in the cultural research, models and displays that he created. The worth of his quality self help 'carrying on' of the process is more obscure and less quantifiable, but possibly more effective in long term outcomes.
Experiences at local and state level suggested that departments are risk averse when it comes to the emerging phenomenon of community driven initiatives. Clear opportunities for partnerships were being wasted. Fewer resource opportunities were coming from Government even when the Eastbend groups reputation was growing and the merits of community responsibility in action.
The signage concept may be an excellent opportunity for interacting and trialing the Cross-Council and the Whole of Government approaches advocated by both State and Federal Governments. How can we encourage Government to overcome past aversions and work to build this process into a proving ground and showcase of the merits of the Whole of Government partnerships in action? The signs of possibility are already there.
Banks, business or service clubs in deed sponsors in general need a benefit in return, hence a successful partnership would require a high quality signage proposal and business plan to be put forward. In any sponsorship/partnership the quality and integrity of the signage; design, information and construction would be paramount if they were to associate their corporate image.
Exploring viability - High Quality Integrated Signage Systems
In this regard preliminary discussions were held with Bill Pearson from Design One Solutions. He innovated a signage system and created the images for the commemoration of Victoria Cross recipients in the pull off bays along Remembrance Drive on the Federal Highway between Sydney and Canberra. These signs are produced for the RTA. Production of the signs involved the combined input of businesses in a rural village, and with the involvement of the local Rotary. Bill was further interested in the ECCM process and how it related to the Eastbend area.
Bill sought to be involved with Eastbend in plotting; photographs, paintings and heritage sites in Maroota Forest on his GPS system. Creating a picture story for the OGNRd Signage concept and for publication. His professional business of combining; signs, publication and community in mapping the area could enhance cultural and eco tourism dramatically improving; business, educational and employment opportunities.
To demonstrate the potential he showed a booklet he produced, " The Melbourne Dreaming ", a guide to Aboriginal Places, linked to the GPS Maps. Originally, Bill was a cartographer working on the Heritage listing of Kakadu. He had also integrated cartography and GPS with training schemes for the Toowoomba Aboriginal Land Council. These skills fit neatly with ECCM and the activities and events, which have resulted from OGNRd projects. The ECCM signage research could be applied to a booklet "Muru Durabin Dreaming".
Integrating Art Signage and Website
In terms of mutual community business support, Bill assisted Duncan Crombie to establish the Chirp Website Business. The GPS satellite mapping process, ECCM picture stories, research and interactive design for the signage could be hosted together on the web site. Five joint meetings with Bill and Duncan in Canberra have been held as preliminaries to developing a funding strategy for potential; sponsorship, stakeholder liaison, networking, marketing and merchandising. Eastbend's Website is registered through Chirp to link the making of signage, visitation prospects, with the virtual reality of it's interactive potential.
The next stage is to develop a signage briefing proposal which can be used in more formal negotiations
Notes for a Signage Briefing Partnership Proposal
Selling the Sign -
Marketing the mix – social / environmental / economic
The importance of Holus Bolus or the comprehensive rather than incomplete fragments.
Notes on Opportunities
A new confidence in community based risk taking
Openness in exploring new ways – telling local story outdoors.
New media for attracting participation including dance exhibition and performance which can be digitally recorded onto the Eastbend Website.
Reaping the benefit from seeds which have been sown – (Eastbend track record becoming recognised)
Evolving skills and maturity of collaborating organisations – (a longing to connect and belong)
Community groups collective creative experience in participative research.
Broadened experiences (e.g. Bill Smith at the Monte St Angelo Muru Durabin ECCM workshop explaining relationship between Inverell rock art, and Maroota art sites, the festival and law ground, and the pathway) Deviations now making some sense (to locals who question the regional and the lack of a localized action)
Growth through changing attitudes into a network of inclusiveness- (scaffolding).
The Scaffolding enabling ownership and enhancing belongingness. Developed jointly from the doing of things differently, by nurturing endemic skills and capabilities with flexibility and trust.
Scaffolding, a reference to a workable balance woven between community organics and agreed structuring.
Whole of government initiatives
Work for the dole schemes
Infrastructure of living heritage in communication
Native Title
Plan First DUAP
Notes on Constraints
Fear of pioneering
Departmental risk aversion and inter departmental rivalry
Comfort zone of closed systems – suppression in questioning the boxes
Constant need for Biting tongue when dealing publicly with authorities as though the myth that they know best is tolerated
Suppression of exploration of a community way, cow towing to departmental prescription
Difficulty in meshing i.e. NHT CMC
Exhaustion of the regular volunteers
Ineffective local support and cross-council initiative between HSC and BHSC
Feebleness of public commentary and the unabashed arrogance of many authoritative speakers at forums and lack of follow-up accounting re the feed back from public meetings seeming feel that it ok to speak with forked tongue and be appeasing to the (nice) forums
Devaluing over-riding lack of effort and will to include and critically examine the local knowledge base.
Local Artist's City Exhibition Hailed a Success - Living Heritage Nov 2010
Review of the 'Much' Exhibition Opening at the Downing Centre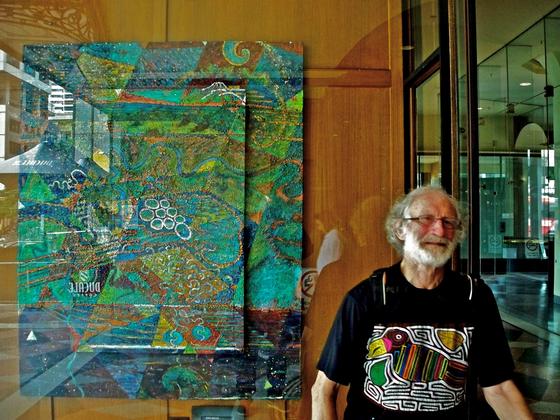 Graham Bird at the Much exhibition.
Graham was the secretary for Eastbend for several years. He is now affected by Parkinsons. Geoff brought Graham to the Exhibition with his wheelchair on the train from Windsor. Graham has a strong affinity with the locals involved in the Eastbend Initiative that links art and community building. Graham has been involved in many of Geoff's community mapping projects. He has long been a keen supporter of Geoff's work as an artist/visionbuilder since the days when he was the instigator of Social Ecology at UWS Hawkesbury when they first met over 30 years ago.
Local Artist's City Exhibition Hailed a Success
(Living Heritage Magazine, Nov)
The opening night of Geoff Buchan's exhibition at the Downing Centre Law Court was a great success. What a wonderful venue for the opening and the paintings are beautifully displayed as you walk along the footpath on Elizabeth and Liverpool Streets.
Former local, Carlton Wright once again took on the role of opening speaker, and special guests talked about the value of community, and environment, and the relevance of Geoff's paintings in looking at these issues.
The paintings are about pathways that are open to respecting differences between people and finding ways to work together to achieve common goals. It is good to avoid conflict and use our energy for creative solutions. Doing this has the potential to produce a better result for all concerned.
A group of community members from Maroota drove to the city for the exhibition opening. A great time was had by all with lots of laughter, fun and nonsense during the car trip. Meeting up with old friends at the exhibition (ex locals), is always very rewarding as is being with friends that are linked together because of the community in which they live.
The exhibition continues through November, so there is plenty of time to view this display of which has been described as Geoff's finest works. Geoff credits Kimberley elders of high degree David Mowaljarlai and Albert Barunga with the inspiration for his main line of story, presented in this "Much is Possible" exhibition. Go see it!
Review of Geoff Buchan's 'Much' Exhibition opening at the Downing Centre
Recently I wrote of my enjoyment in attending the play "Namatjira". As you will probably know, Namatjira was a well loved aboriginal artist of 1950's who painted the Australian bush using traditional western art techniques with a uniquely aboriginal eye.
Geoff Buchan's art appears to me as a counterpoint to Namatjira. Buchan is of Anglo-Saxon heritage and yet his art is reminiscent of the visual symbolic language of western desert art. It is an impressive mix of bush scenes and symbols reflecting his vision-building philosophy. Buchan has a strong affinity with an indigenous world view and has supported their artistic endeavours. For instance, the credits from the recent film Bran Nue Dae, a dramatization of the Jimmy Chi play, thanks Buchan "for encouragement and inspiration".
The exhibition was opened by the Hon. David Lloyd Q.C. a retired Land and Environment court Justice, among his many other distinguished accomplishments. He spoke of his commitment to environmental causes. As an environmental activist Buchan was involved in an issue in one of Justice Lloyd's hearings related to sand mining in Maroota. A number of paintings display his search for sustainable solutions to this water catchment management dispute.
This is Buchan's fourth of his 'Flow of life' series. Each exhibition took place at key locations tracing the Hawkesbury River, a spiral originating in Richmond and now at the Downing Centre of Sydney. The Downing Centre offers a wonderful showcase that can be viewed at any time of the day or night, as the paintings are in the old Anthony Horden's window display areas that once showcased western fashion. Now a law court, it is truly a unique space, informal and effective. The irony is that Buchan paintings often have an aboriginal law element and are currently displayed in the setting of a law court building.
The opening was attended by a large enthusiastic crowd. To my surprise they were not the usual suspects of media and prospective buyers, but rather a community affair. Indeed I discovered that they were mostly residents of Sydney's north-west and inner city folk. Many spoke of being drawn into community activity by Buchan's activism, along the same line as the "Bran Nue Dae" tribute.
We heard informal stories of Buchan's involvement in environmental causes, his 'Singing Bus' initiative with high school children, associations with the outer west Children's Museum and his new "Million Signs" initiative. A highlight was Buchan explaining his vision building philosophy and tools, illustrated by his paintings.
by Carlton Wright