MUCH

The exhibition showed the:
- origin,
- application and
- transfer of this societal change paradigm.
Visionbuilding began as a creative participation initiative in the Kimberley in the mid seventies. It is being tested and refined in the heritage-rich Maroota area on the outskirts of NW Sydney where the outdoor artwork sophisticated information signage - OASIS Million Signs Australia Project is a direct outcome.
OASIS was presented at the exhibition as an "intra venture" that establishes an educational visitation economy ( "LEARNING REVOLUTION") in rural areas especially aboriginal communities.
OASIS has a visualized small business training module to advance a project that lends itself alliance formation ( an "INTRAVENTURE") and social networking participation.
The artworks explored the universal media role of the artist in society, over time.
To this end, some of these artworks are called painterly diagrams. These are strongly influenced by experiences with, and understandings adapted from an Aboriginal "world-view". This influence is cross-referenced through working across disciplines, across artforms and overseas in other cultures.
The paintings have a newly designed visual language to explain patterns and trends from multiple perspectives.
This language is created for the purpose of "seeing ideas", mapping options, and sharing the possibility of making positive change.
In the search for solutions, the work of the artist becomes pervasive, dense and varied, hence the title "Much" - for much is possible in sustaining the "flow of life".
Geoff Buchan's Exhibition List 1972 -1999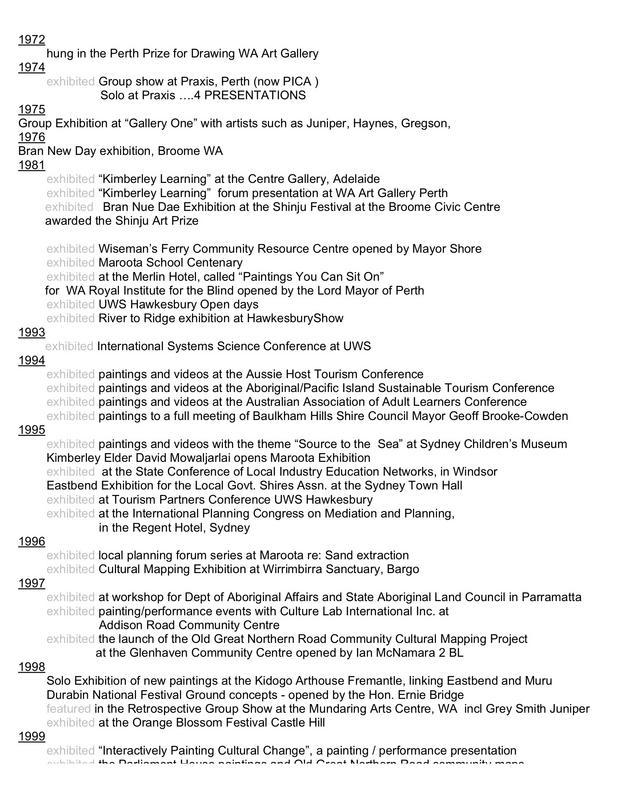 Geoff Buchan's Exhibition List 2000 -2011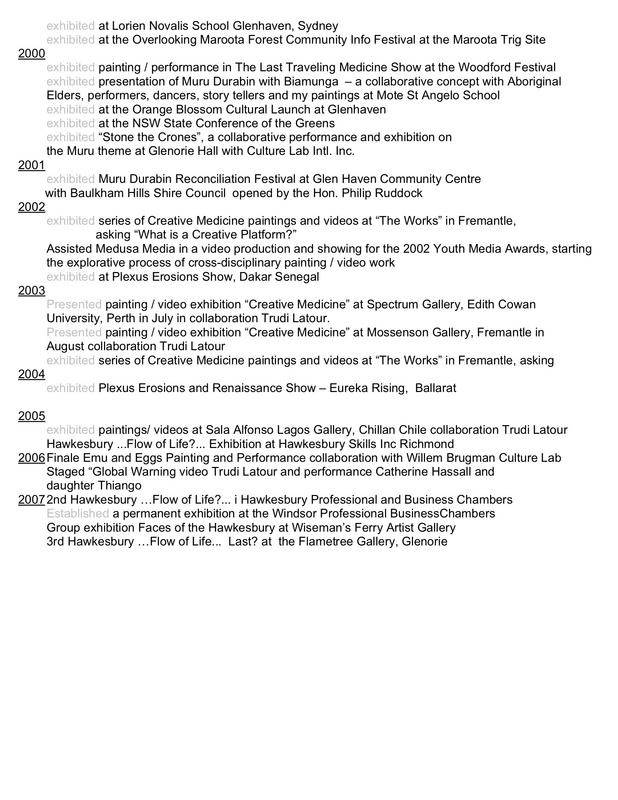 PRAXIS EXHIBITION PROPOSAL by JULIEN GODDARD 1984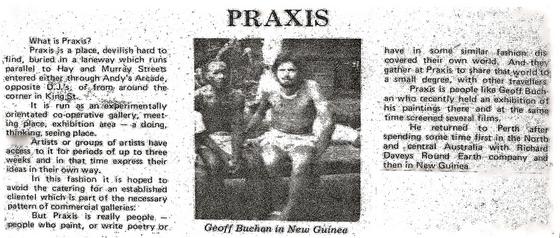 PROPOSAL FOR AN EXHIBITION - COMMUNITY ARTIST GEOFF BUCHAN
by Julien Goddard Director of Praxis Perth W.A 1984
Introduction:
Geoff Buchan is an artist whose work in the community has spanned some ten years. Geoff started working in a "community arts" context well before the term, or indeed the idea, had been made popular.
Geoff's work in a sense is unique in that he has not only been actively engaged in community artwork but has maintained his own private practice as an artist.
It is proposed to mount an exhibition of Geoff's work of the past ten to twelve years illus-trating both modes of his art activity, i.e. the public and private, and their interrelation-ship.
What is intended is to present Geoff's experience as a possible model for an artist. In that sense the exhibition extends well beyond the normal viewing of artworks. The package of work exhibited will document his efforts to expand the traditional role of the artist beyond that of producer in a consumerist/ materialist society.
Geoff's work can be seen as an attempt at a "wholistic" art practice. His work is con-cerned with the whole community, not just the art community, in which he is located. His projects have extended well beyond the traditional areas of artistic concern. It is hoped that this exhibition will present the work Geoff has produced as a stimulus for discussion and debate, not only about the role of the artist in the community, but also the larger social meanings of art.
History
Geoff Buchan graduated from the Western Australian Institute of Technology in 1972, majoring in painting. Geoff immediately set off on two trips. Firstly, to Papua New Guinea, and then to the north of Australia as part of a Multi Arts Expedition. On his return Geoff painted full time and with others started to work towards setting up Praxis. After achieving the establishment of Praxis in 1975 and having subsequently had a successful one-person show and several group shows he then moved to Broome and founded the Broome Arts Group (Aboriginal Corporation).
The Group's work was directed to the realization of the artistic/social potential of the aboriginal and broader community of Broome. The Broome Arts Group, under the guidance of Geoff, became a selfsupporting social model which eventually led to other collective efforts by the aboriginal community such as a trucking company (Dingo Deliveries) supporting local basketball teams, transport to Aboriginal Ceremo-nies, and as a catalyst for the local newspaper, contemporary aboriginal music, local exhibitions, fabric printing.
Geoff's role through all this was that of catalyst "painting with people not with paint".
In 1981 Geoff and his wife, Jane, moved to Maroota outside of Sydney where Geoff built a fabric printing workshop along appropriate technology lines. He became in-volved in community enterprise organizations, producing silk-screened fabrics and furniture.
Again, Geoff's work was that of catalyst and organizer, bringing together diverse re-sources within the local community and that with past experiences in community en-terprise have assisted in the development of the Wiseman's Ferry Health and Re-source Centre of that community.
Geoff has tended to work with "less privileged" groups within the community such as aboriginal or unemployed peoples. The use of artist endeavour has been at the fore-front of Geoff's success in bringing such groups together for their own advantage.
While being so involved in other people's aspirations and achievements Geoff has pursued his own private practice as an artist. Much of this work has been as a re-sponse to the processes and activities he has found himself initiating and being part of.
As an artist, his paintings are a juxtaposition of imagery. He aims towards a marriage between current academic thought (paradigm shifts) and grassroots practice. The subjects being aligned to his research work at the Centre for Continuing Education at the A.N.U. in Canberra in 1980.
His paintings relate the essence of this research to his explorations and practice in the field. He used his arts skills as a vehicle to correspond with the values shifts of appropriate technology, community enterprise, community education etc.
Geoff was artist in residence at the EAF. At that time he compiled the Kimberley Community Arts Exhibition at the Centre Gallery in Adelaide in 1981. It was referred to by Mr Kym Bonython in his opening speech as a "model and inspiration for the rest of Australia".
The KCA exhibition will expand to show more clearly the patterns for the model. It will be shown for further criticism and refinement.
The essences of the "model" will include references to the role of art skills in the de-velopment of the Wiseman's Ferry Community Health and Resource Centre in New South Wales. The Centre is a unique example of community enterprise; Geoff exhib-ited examples of his "ideas" there, in 1984. Photographs of the displays and Geoff's fabrics, design furniture and drawings will be included to supplement the ""holistic" intention of the exhibition.
His work is that of a mature artist with purpose and concern for the social importance of art. The work is not political; in a sense he is a visual warrior for the facilitation of understanding; and overall vision of the patterns and the changes to the social fabric of life. He aims to depolarize society and not take on issues. Instead, he uses his skills in an attempt to attract community participation, fertilize dialogue, expand refer-ences to options, and positively develop the valued assets of that place.
The Exhibition
It is envisaged that Geoff will mount a substantial exhibition of material concerned with the activities described above documenting the past ten years work.
The exhibition, mainly paintings, will comprise of displays of the works (artifacts) and documentation of both the Broome and Maroota experiences, plus a survey of Geoff's own work from the past ten years.
The show will include video, photography, artifacts (including silk-screened fabrics, furniture, etc.) and a substantial catalogue. This document will include some of the mass of letters and research etc. needed to have achieved Geoff's projects.
Sue Hartley has been appointed curator of the exhibition and Praxis lends all of its support and resources to the realization of what Praxis considers an important and provocative project.
Exhibition at Centre Gallery Adelaide 1981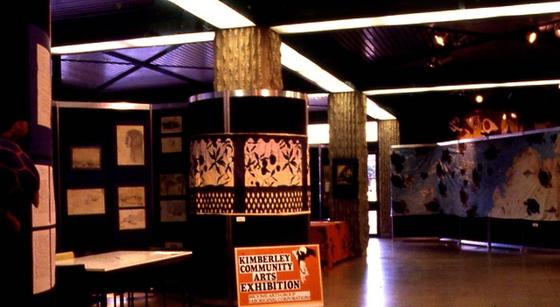 Tourism in the Hills Expo Darling Harbour